Macedonian fruit salad
In addition to the climate and the season, the composition of the fruit salad dictates to you. This distinctive salad is the perfect summer chill, and in the winter simply replace some types of seasonal fruit with candied ones.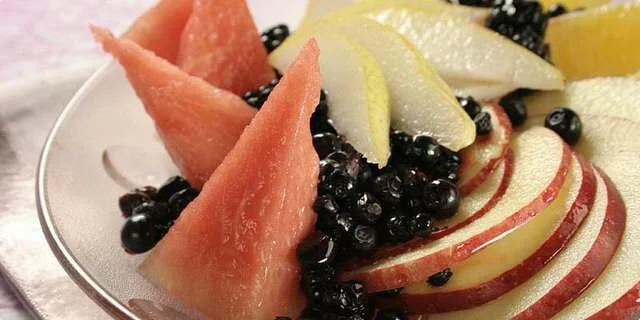 Preparation steps
Peel apples and pears. With the whole apples, take out the middle part with the seeds and cut them into rings. Cut the pears into slices and remove the seeds.
Peel an orange, grate it and squeeze the juice.
Wash the berries.
Cut the watermelon into triangles.
Arrange the fruits by type in a wide glass jar.
Make a syrup from sugar, lemon sugar and lemon juice, maraschino and rum. Heat it over low heat until the sugar has dissolved, then cool the syrup.
Pour the prepared syrup over the fruit.
Serving
Cool everything well and serve.
Advice
In winter, you can replace some types of seasonal fruit with candied fruit.