Macarons
Cookies that can be a different color each time and with a different filling, cheerful, colorful, colorful, are a challenge to make, and reward with taste.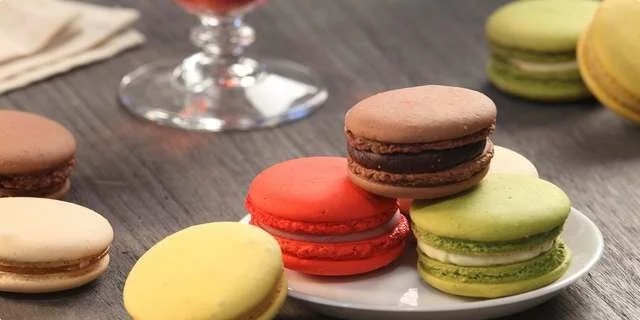 Preparation steps
Place the egg whites in a bowl and cover with a cloth or paper towel. Let them stand at room temperature for a minimum of 24 hours, and we recommend 48 hours. The egg whites must stand to allow the excess moisture to evaporate and the elasticity to increase.
Grind the almonds with an electric chopper into a fine lump-free powder and mix it with the powdered sugar.
Beat the egg whites with an electric mixer, but only until they start to thicken. Add sugar and mix well until combined.
Add the color and stir briefly.
Add the mixture of powdered sugar and almonds to the egg whites, then mix briefly with a food processor to combine well. Do not stir too much as the mixture will relax and soften.
Place the mixture in a pastry bag for decoration with a round extension of 1 cm. Place the baking paper in the tin and squeeze the mixture into a 3 cm circle with a bag of 5 cm between the cookies. Leave to stand for 30 minutes for the cookies to flatten a bit and get a crust.
Preheat the oven to 135 ° C, place the cookies and bake for 18 minutes. Allow them to cool to room temperature and gently remove them from the paper with a spatula.
Spread half of the cookies on the flat side with Lino lada nougat and gently cover with the remaining cookies.
Serving
Serve with your favorite beverage.
Advice
For this recipe, we recommend using homemade eggs for better egg white quality.