Green soup - green cabbage
For caldo verde or green soup, a typical Portuguese dish, you don't have to wait for a trip to a picturesque country - Portugal is coming to you. The excellent taste will not be foreign to you at all, and that is exactly the charm of this dish.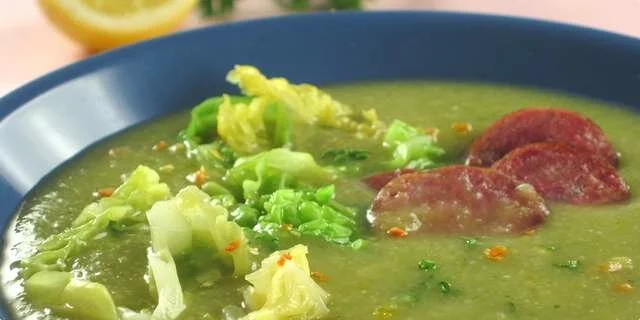 Preparation steps
Peel the potatoes and cut them into quarters, the kale into noodles, and finely chop the onion.
Fry the chopped onion in the heated oil. Add garlic, potatoes, kale and and pour hot water to cover the vegetables. Stir and cook covered for about twenty minutes until the vegetables are soft.
Chop the warm vegetables together with the liquid in an electric chopper and return to the bowl. Add another 400 ml of water and pepper and boil briefly.
Bring the sausages to a boil, cut into slices and add to the soup.
Serving
Add salt to the green soup as needed, sprinkle with parsley and serve.
Advice
Instead of kale in the soup you can add chard.