Circus pudding
Pudding lovers will be delighted by the colorful surprise in the layers that awaits them in tall glasses. Chocolate, vanilla and raspberry are the flavors of the pudding that will make this dessert appealing to both children and adults.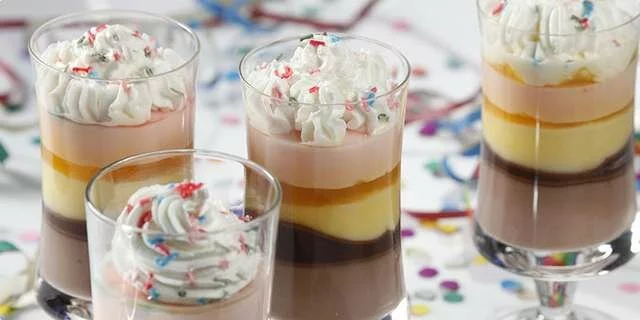 Preparation steps
Mix the pudding powder with 40 g of sugar.
Take 6 tablespoons of 500 ml of cold milk and mix them well with a mixture of chocolate and sugar pudding.
Bring the rest of the milk to the boil, remove from the heat and add the whipped pudding powder and cook for 1-2 minutes, stirring.
Arrange the hot pudding in moistened tall glasses with a volume of 200 ml (10 pieces) and leave to cool.
Melt the chocolate in a steamer, add the sweet cream and mix gently for 2 minutes, then pour over the pudding.
Cook the vanilla pudding in the same way as the chocolate pudding and pour over the chocolate.
Put jam on the vanilla pudding, and put raspberry pudding prepared in the same way on it.
Mix the whipped cream hit with the milk and beat with an electric mixer using a whisk.
Put it in a pastry bag and decorate the pudding with it. Sprinkle it with colorful crumbs.
Serving
Serve with large spoons well chilled.
Advice
You can use the pudding in other combinations.