Chipi chips garden edition
Facebook reminded me yesterday that I joined this page a year ago. So on that occasion and on the weekend, also because some people still pringles decided to share how easy it really is to make very very good chips and point out the most important mistake everyone makes so they don't get crunchy but flabby greasy potatoes. Maybe there is already a recipe / s for this I did not check but 90% of you are stingy in describing the preparation itself. So let's go step by step how to get real homemade chips.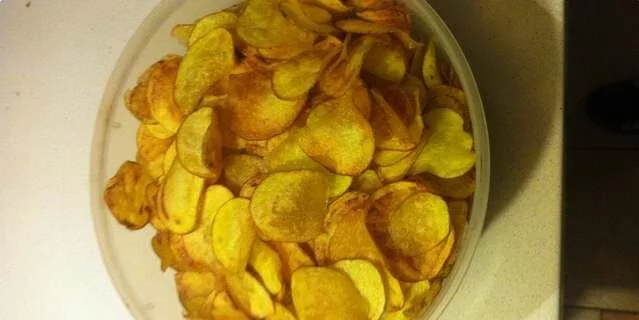 Preparation steps
The first step is to go to the garden and take out the potatoes. If you don't have it then go to some grandma I'm sure she has.
Now that you have taken it out you take the dish and wash it well. It needs to be peeled because it is a young potato that has a very thin skin so it is not worth spending time on it.
When you wash it well you find currants somewhere in the house, I have some old one from the south on which I fish cabbage. The goal is to make the plane as thin and even as possible so that you forget about the knife no matter how sharp it is unless you have finished for the kurah and you have 20 years of experience otherwise it is a waste of time plus you can cut yourself and why.
So as thin as you can. Otherwise he will need five days of soaking in water.
Now that you've grated everything, it's important to wash it off as best you can. It means the water is no longer cloudy when he is in it. Then add two tablespoons of salt to clean water and let it stand in that water, stirring occasionally by hand.
After about half an hour, check if the potatoes have "relaxed", this is the most important thing, they must not stay hard anywhere, they must be bent as if they were fabric.
I guess this picture shows better what I mean. So it has to be given a crumple. If it is not, stir it and let it stand. It is better to stand longer than to stay hard because it will not fry well.
When you have achieved this, drain it and rinse it well under running water, then let it drain.
It is even better to dry it on a kitchen towel or those paper towels because it still goes into hot oil and oil and water are not liked.
Heat the oil in a pan. The pan I use is not very big, so it contains approximately 2-3 dcl of oil. It is important that it is deep enough that when you put the chips in it it floats in the oil. Or use a deep fryer if you have one in it I haven't made anything in my life yet so you will have to test it yourself.
Prepare something to take it out with. I found this is nothing but serve. And of course a tray on which excess oil will drain.
Now slowly add to the pan as much as they fit and fry until they turn yellow for about 30 seconds depending on how thick you cut them. You will feel the angle under your arm when they become hard then they are done.
And now fry them and take them out to the side to drain. And that's it when they're done, salt them, pick them, put paprika or onion powder (I don't know where to buy this, I make it myself and the taste and smell are identical to when you buy onion-flavored chips, maybe I'll take the same picture and explain how it works: D)
Boom bowl of chips. From 1.5 kg of potatoes with how much I worked you get 0.5 kg of chips.