Chestnut and orange cake
We need "something sweet" at the end of the meal to "round out" the flavors that preceded it. The winter menu will have a spectacular finish if you envisage a refined chestnut cake for dessert. And, of course, coffee!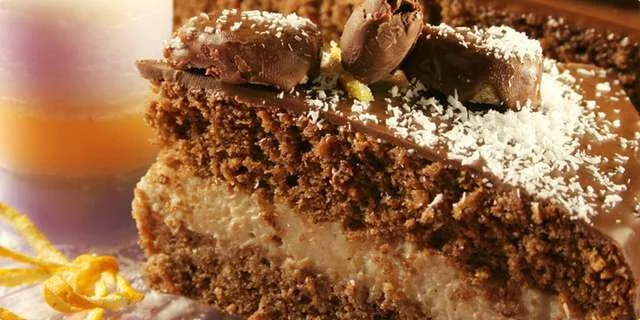 Preparation steps
Separate the egg yolks from the egg whites. Beat the egg whites until stiff, and whisk the egg yolks with the sugar and vanilla sugar. Add the juice and grated orange peel, melted chocolate and butter, almonds and flour, which you have previously mixed with the baking powder. Finally, lightly stir in the solid egg whites.
Pour the biscuit mixture into an oiled and floured round mold with a diameter of 24 cm. Bake in an oven preheated to 180 ° C for about 20 minutes. Remove the baked biscuit from the mold, cool and cut in half.
Whisk the butter, add the chestnut puree, rum and grated orange peel. Put the gelatin leaves in cold water for about 5 minutes, drain and put in a small pot. Add 3-4 tablespoons of water to the gelatin and dissolve in the steam.
Mix the gelatine prepared in this way into the chestnut mixture. Beat the sweet cream firmly and also stir in the chestnut cream.
Soak the prepared biscuit crusts in orange juice. Coat with the prepared chestnut cream and cover with another biscuit crust.
You will prepare the chocolate glaze in this way: put 130 g of margarine in a bowl, melt it, and then cook on low heat until water evaporates from it, ie until bubbles stop forming on the surface. Add a tablespoon of oil and let stand for at least 5 minutes for the precipitate to settle, then pour the liquid margarine off the precipitate.
In another bowl, break 250 g of cooking chocolate and lightly add melted margarine to it, stirring with a whisk until you get a uniform mixture.
Pour chocolate icing over the cake and cool well.
Serving
Garnish as desired and serve with whipped cream.
Advice
Whip the sweet cream with the addition of Šlagfix to make the mass firmer.