Chery lady ... cherry cake
For all cherry lovers ... a simple and quick cherry cake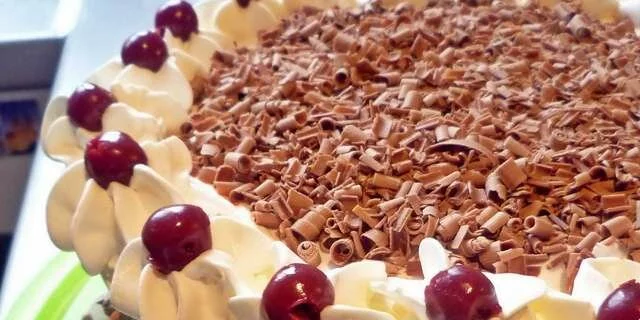 Preparation steps
Biscuits. First make a solid snow of egg whites and a pinch of salt. Mix the egg yolks with the sugar until you get a light mixture (at least 5 minutes). Add all the other ingredients except the egg whites and mix well. Finally, mix two tablespoons of snow into the mixture and then mix the rest lightly with a spatula. Put greaseproof paper on the bottom of the baking tin (the sides do not need to be greased) and pour part of the mixture. From this quantity, three biscuits with a diameter of 20 cm and two of the larger molds fall out (this cake is made of three small biscuits with a diameter of 20 cm). Bake each biscuit for about 10 minutes, ie until the toothpick is dry at 170 ° C. Leave the roast to cool.
Cook the cream 1 ie vanilla pudding with the listed ingredients (cooking identical to the instructions on the pudding packaging).
First, separate the cooled biscuits from the baking paper and turn them so that the bottom side is now up. Coat that side with cherries (on all three biscuits). Pour the vanilla pudding over the two and flatten.
Take a few tablespoons of the juice from the compote, which you mix with one pudding and sugar. Heat the rest of the compote until boiling, when it boils, stir in the pudding and cook until the mixture, which will initially be slightly "cloudy", becomes transparent (like gelatin).
stacking the cake: Place the biscuit with a layer of vanilla pudding on a rack. Pour half of the whipping cream over the vanilla pudding. Put another biscuit with a layer of pudding and put the cherry cream on again. Cover everything with the last biscuit (turn the side you moistened with cherries down so that the dry side of the biscuit is ready to decorate from above).
decoration: Make whipped cream from 0.5 l of sweet cream (add sugar or rum if desired). Coat the whole cake with whipped cream and make roses with a syringe. Place one dried tall one on each rose. Peel the milk chocolate that you kept at room temperature with a potato peeler, but first on paper and then with a spoon or paper, pour it on the cake (if you peel it immediately on the cake, it will not be so neat).