Bunny Bum Chocolate -Cheese Ball ...
Decorative Easter bunny back made of cream cheese and chocolate ...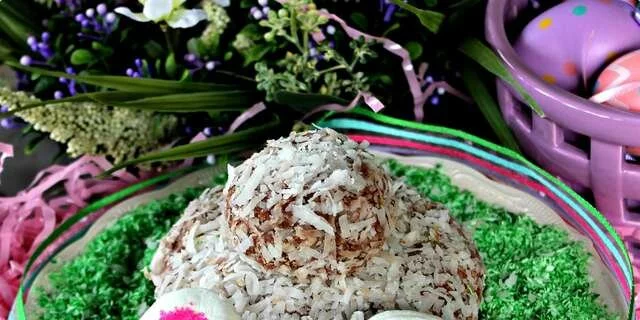 Preparation steps
Leave the cream cheese at room temperature ... Melt the chocolate .. Mix the cream cheese. Add powdered sugar, vanilla extract and a little salt to it. Then add the melted chocolate and cocoa. Cover the bowl and leave in the fridge for 1 h.
In a small bag, add the coconut and green color, close and mix well.
Take the cream cheese out of the fridge, set aside 3 tablespoons for the top of the bunny tail. In a smaller platter or saucer, place most of the cream cheese, then place the canola on top. Then shake the green coconut or "GRASS" around the plate.
FEET: Cut the JAMBO marshmallow in half with kitchen scissors. Dip the sticky part into powdered sugar so that it does not stick. Using a brush or with your fingers, draw the nozzles WITH WATER. I am with my fingers. Then press the drawn part into the pink sugar.
Put the legs on one side and the cream cheese on the other side ... Slightly cut them as in the picture ..
Serving
Here I am posting a photo with our tiny coconut ... I was not very happy with the result so I repeated it with grated coconut ...