BUNDICI - Stuffed Zucchini in White Sauce
I love zucchini! and these stuffed with minced meat and rice and baked in White sauce are very tasty. This recipe can be made with red sauce as well.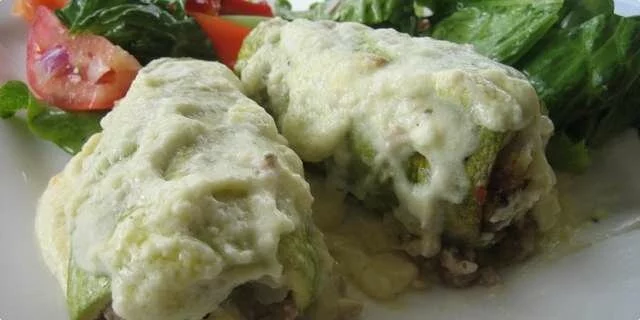 Preparation steps
Wash the zucchini, cut off the top of the zucchini and the end of the zucchini and hollow out as much as you can. Set the hollows aside.
Cook one cup of rice and set aside.
Put a little olive oil in one wound and let it warm up a bit, cut the onion and garlic and add it to simmer.
When the onion has softened and turned yellow then add the minced meat and continue to simmer.
Season the meat with vegeta, salt and pepper. The meat must not have lumps, so equalize everything nicely with the cooker.
Add rice to the finished meat, mix and set aside.
Take a bowl of lasagna and coat it with margarine.
Fill the zucchini with minced meat and place nicely in a lasagna bowl.
Turn on the oven (not at a high temperature but 160 to 170 degrees) to warm up.
Place the zucchini in the oven to bake lightly for 30 to 40 minutes
While the zucchini are lightly baking, make the White Sauce.
Put a little olive oil in one bag, add 2 tablespoons of flour and mix until it turns yellow-brown.
Add a glass of milk and mix further.
Add 1 cream and stir constantly and make sure it doesn't become too firm, add spices and stir a little more.
Take the zucchini out of the oven and pour over the zucchini with the white sauce.
Put the zucchini back in the oven and let them bake until done.
You can also make this recipe with red sauce, first make a sprinkle and then add a little red pepper powder. Stir it a little, then add Tomato paste you can 2 to 3 tablespoons and dilute it with water. As with the white sauce, pour over the zucchini and put in the oven. Bon Appetit !!