BULGAR EKMEĞİ (Bulgarian bread)
Delicious fragrant sweet-salty breads. Reminiscent of cabbage rolls. I hope no one has already put the recipe.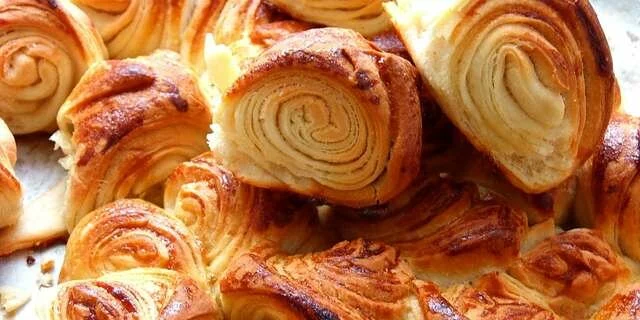 Preparation steps
Prepare the dough: Heat the water and milk gently to make it lukewarm. Add them to a mixing bowl together with olive oil, salt, a pinch of sugar and mix everything well. Gradually add the flour, mixing with a wooden spoon until you get a smooth dough. Depending on the type of flour, you will need more or less. Cover the dough with a cloth or lid and let it rise until it doubles in volume.
Divide the dough into four parts. Divide each part into four again. Make a ball out of each piece.
Melt the butter in a bowl. Take four dumplings and roll them into a round. Coat each with butter. Arrange them on top of each other by lightly pressing. Pass another lasagna (rolling pin) over the dough to connect well and along the way it will stretch a little more.
Roll out the dough in the waist as in the picture.
Cut the dough into triangles as in the picture.
Arrange the triangles on the protvan, let them have a little space in between. Cover with a cloth. Leave in a warm place to rise for another half an hour. Blur the coating: Put the egg yolk and one tablespoon of honey in a bowl, stir to combine and coat the parts of the triangles.
Bake them in a preheated oven at 200C / 30min. or until they get a golden color.