Bülbül Yuvası baklava
Bülbül Yuvası baklava in translation- nightingale nests.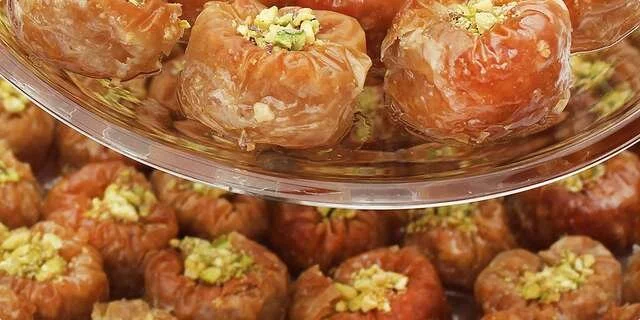 Preparation steps
Prepare agda who to pour the sugar into a medium-sized skillet and add water two fingers above the edge of the sugar, and cook on high heat for about 15 minutes.
Melt the butter with a little oil.
Grind the walnuts and add 4 tablespoons of sugar and mix.
Cut the noodle crust into four pieces.
We got four rectangles.
We cover the two rectangles with a damp cloth or transparent foil so that our noodles do not dry out.
For the other two, coat 1/3 with butter.
Then add the walnuts.
We put a thinner stick at the beginning of the noodles (I used Chinese wooden sticks - cutlery)
We twist to the end.
Then we push the noodles towards the middle on both sides to make us wrinkle.
Cut into two equal parts.
We carefully assemble the ends to get a so-called nest.
We place the nests in a round tray with a diameter of 38 cm. We start from the middle, then in a circle.
Baklava before baking.
Bake in a preheated oven at 170 degrees for 10 minutes, then reduce the heat to 140 and bake until nicely browned. I just baked everything in total for about 35 minutes. It all depends on the oven how long it will bake. This baklava is thin and doesn't need much to bake.
Pour hot baklava with lukewarm agave and leave to cool.
Then grind the pistachios and garnish.
Enjoy and enjoy with this oriental dessert.