BUHUUU Maffini
The youngest had a birthday and he wanted to make these Maffins for him to take to school to share with the children. And it was a complete hit, everyone was very satisfied and everything was eaten sweetly. The recipe and idea is from the newspaper Laura Backen im Sommer.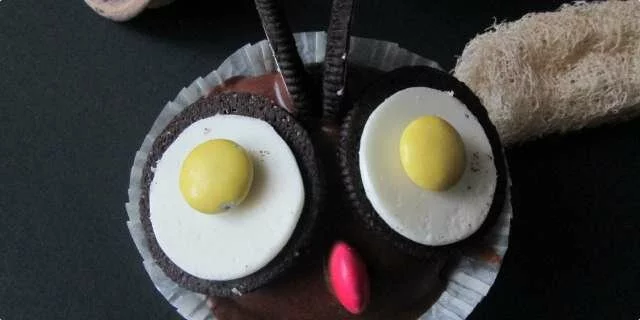 Preparation steps
First, prepare the cream, which must stand in the cold: Cut both chocolates as finely as possible. Put the cream to heat, remove from the stove and add the chocolate and stir with a wire to melt all the chocolate. , cover with foil and leave in the cold for 2-3 hours.
For muffins: Turn on the oven to preheat to 200 ° C Prepare 19 muffin tins. Make eggs, sugar and vanilla with an electric mixer to melt all the sugar. Now add milk, oil (mix all the time). Combine the flour with the almonds, baking powder, cocoa, then add and mix now so that everything blends well.
Fill with the prepared mixture of molds and bake muffins for 20-25 minutes (try with a toothpick). Leave them to cool well.
Mix the remaining cream briefly with a wire. Halve the Oreo biscuits so that one side is with white cream and the other remains black, it is best to do it with as thin a knife as possible, not with your hands (I tried but they broke).
Cut the black half of the biscuit in half. Coat each muffin with cream, immediately put 2 halves of oreo biscuits as in the picture for the eyes, put the halves as eyebrows. Put 2 smart candies on the middle of the eyes (previously smeared with a little cream) and put one candy on the mouth, as in the picture. Let them stand for the cream to set.