Buhtle with messages
Messages or proverbs, written on baking paper, can be placed in buns, for example, a visit is always a pleasure - if not on arrival, then on departure. .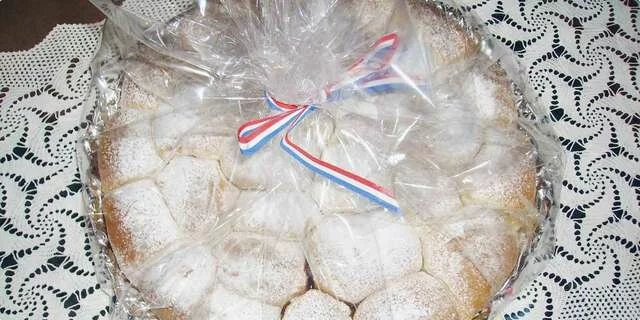 Preparation steps
Procedure: In a separate bowl, mix the flour, germ, sugar, egg yolks, salt, lemon zest and vanilla sugar. Melt the margarine in the milk (do not overheat) and mix it so lukewarmly into the above mixture with the flour. Mix all the ingredients, and put the mixture prepared in this way (which must not be gooey, must not stick and must not be with too much flour) in the bread oven, on the dough preparation program. The procedure takes about 90 minutes. (mixing and lifting). Divide the finished dough into two parts. Roll out one part, form circles or squares, coat with stuffing and wrap, and return the other part to a warm baking dish. Turn on the oven to 50 º C. Place the prepared wrappers in a round pan (turned and floured, turn the joints down), cover with a cloth and leave in a preheated oven at 50 º C to rise (approx. 45 - 60 min.). After the dough has risen, coat the rolls with oil and bake in the oven for 50-60 minutes. at 160 º C. Sprinkle with powdered sugar.
Preparation of the filling: Boil the ground walnuts in milk, to which we have added sugar, and finally mix in the egg whites and butter. Before wrapping the apples in the dough, sauté them with sugar and, if desired, add rum or cinnamon, and just mix the cheese with the other ingredients. If desired, other ingredients can be added to the filling, such as dried fruit, cranberries, pineapple, passion fruit, raisins, etc. We get exotic gibanice. It is especially effective when walnuts are combined with cranberries and poppy seeds with dried pineapple. Dried fruit can also be mixed into the dough. Lace buns with quince jam
Serving
All foods should be at room temperature or better yet be slightly warmed. Instead of walnuts, it can be topped with poppy seeds (according to the same principle), or with cheese, jam, apples.