Buckwheat dumplings
In the Slovenian town of Kostanjevica, Vegeta's gastronomic team was delighted with the typical Slovenian inn "Žolnir". She also found delicious dishes from a somewhat forgotten, but very valuable buckwheat cereal, which is being rediscovered by modern food trends.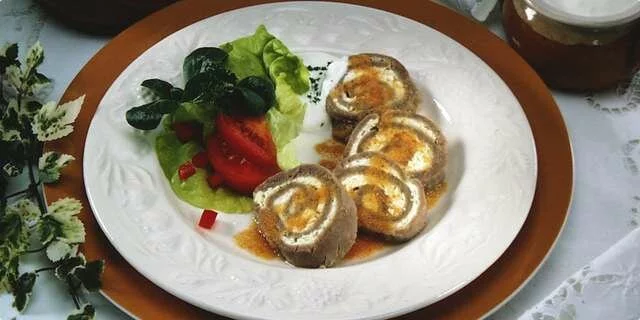 Preparation steps
Put buckwheat flour in a bowl and pour boiling salted water over it. Mix everything well and leave to cool.
Meanwhile, prepare the filling: strain the drained cheese or mash it well. Add cream, beaten egg, a little salt and and mix everything well.
Sprinkle the cooled dough on a board floured with white flour. Mix it well, then divide it into two parts and roll each one to about half an inch thick. Arrange the prepared cheese filling on the surface and sprinkle with a few crumbs (the amount of crumbs depends on the density of the filling).
Then fold the dough firmly into two rolls - "štruklji". Place them on napkins, which you have previously soaked, drained well and sprinkled with crumbs. Lightly wrap the strudels in a napkin and tie with string.
Put them to boil in salted boiling water for about 30 minutes. Then take them out of the water, unwrap them, leave them to stand for a while, cut them into slices and pour over the crumbs that you have fried in butter.
Serving
Buckwheat strudels prepared in this way can be served as a stand-alone dish with cream and salad if desired, or as a very tasty side dish, for example with steaks in mushroom sauce, venison ragout or similar dishes. And the surprise will not be missed even when you sugar them.
Advice
From the rest of the dough, form small balls, cook them and pour over the toasted crumbs.