BRATKARTOFFELN - fried potatoes the German way
Bratkartoffeln is a traditional German side dish of fried potatoes. The name simply means fried potatoes. There are a couple of variations, depending on how it is prepared and what spices are added. This is a slightly richer version. Super delicious!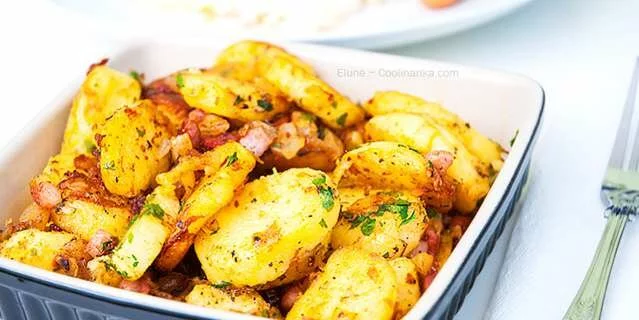 Preparation steps
For this recipe it is good to use potatoes that have been cooked the day before, although this is not a rule you are free to cook, cool and prepare the same day. Most importantly: use potatoes that are waxy in texture, not floury. You can prepare it in two ways, first boil the potatoes in half, then fry them, or fry them directly without cooking. I opted for cooking + frying. Use butter to fully enjoy this dish. Of course you can half butter half oil or just in oil, but I recommend trying it only with butter :) Be sure to buy smoked bacon / bacon. If you want to go cheaper, you can also buy smoked ham.
Boil the potatoes in their skins. About 20 minutes is enough. It does not need to be completely cooked because it will be finished during frying. Leave to cool, then peel and cut into slices. Place the slices in the refrigerator to cool completely.
Finely chop the onion and bacon. Put the butter in a deeper wide pan and heat, when it melts add the onion, bacon, a sprig of rosemary. Fry for about 7-10 minutes, until the bacon is crispy and the onion darkens and caramelizes. Add garlic at the last minute of frying. Finally drain the onion. garlic and bacon, remove a sprig of rosemary. Return the fat to the pan and heat to be very hot.
Now add the sliced ​​potatoes. Do not just throw the potatoes over each other, it is best that all the pieces are in contact with the bottom of the pan to bake finely and evenly. Fry until the potatoes get a fine golden color. Then turn and fry the other side as well.
Add fried onion, bacon or ham, red pepper, thyme, cumin and parsley and mix carefully and fry a little more.
I served it with fine German fried Bratwurst and fried eggs. :) If you make them with fried eggs, be sure to fry them in a little fat where you fried onions, bacon and potatoes, the taste is divine!