#

banichki
Banicki 2
Another of my banic style recipes just the other way around….
Burekići
There is no birthday without burek, especially children's…
Crispy rolls
Looking for something else, I came across this, for some reason unknown to me, forgotten recipe from the November 2007 issue of Sale & Pepe magazine. That is the recipe, which I also watched in the show "Cook with the heart".
Dawn triangles with cheese
My mother-in-law showed me this phenomenal pie. ..I make it often, I hope you will too !!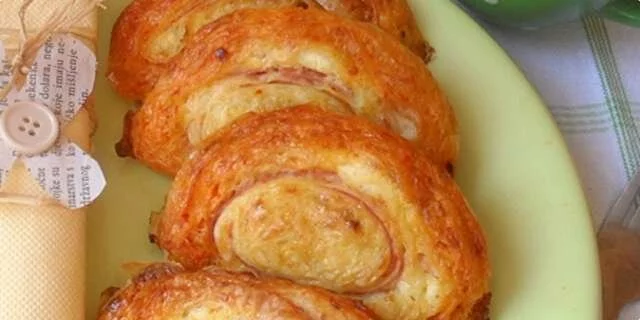 Gibancice
Don't try this !! .. Surprised by the taste of this beautiful warm appetizer, with a filling of cheese and ajvar, roll in roll…. !! from the October edition of Dobra Hrana !!!!
Hawaiian roses
Another recipe of my hardworking friend Dojna… gibanica I love in all forms, but this one will be on our table regularly from now on. It is ideal for larger celebrations on the buffet table, because even cold is delicious and soft.
He asks the Macedonian Girl
As this is an original Macedonian recipe, and it is a combination of my mother's and mother-in-law's pie (so that there is no quarrel whose mother cooks better), I gave it this name mu the picture is worth more than 1000 words (.
Inflated pie
When I saw these triangles, I thought there was some catch in the recipe or in the way they roll so each is so inflated. I took the recipe and it turned out that there was no cake, they just swell up and stay that way even when they cool down.
Mantles
very tasty, this is how they have always been made in our country
My mantle dough
... Quince was looking for a dough recipe for the Mantles. They make them in different ways. I am Bosnian, I make them the way I know best ... :)
Pie included
I saw the recipe a couple of years ago in Vokij Kostić's show and I like to prepare it. It may look like an ordinary pie on the list of groceries, but believe me, it's not very ordinary…
Potato muffins
Today I made Anka's Medjimurje gibanica and I have four crusts left. So to use them, I came up with the idea to make potatoes, but in this slightly different way !!
Rolled pie (from the freezer)
The advantage of this pie is that you can make it a day or two earlier, or a couple of hours before you plan to bake it, it is very easy to prepare, and it tastes perfect…
Snails with apples and plum sweet
In fact, I was supposed to make apple pie. But I saw a jar of my mother's plum sweet and I had to combine something. I was struck by creativity! And instead of pie, snails turned out - sweet and delicious, it couldn't be better!
Spinach pies and cheese
Leaf dough pies stuffed with cheese and spinach…
Strukli from Zagorje with VIDEO
in the performance of Lika… I studied and made for a long time two years ago..after that I often make them (I use the ends and one part for štruklji soup