Balls stuffed with marzipan and apricot
Marzipan you either like or you don't. These are almond balls stuffed with marzipan and dried apricots, enriched with orange flavor, crunchy "dressed" and baked with almond flakes. For marzipan lovers pure pleasure, and for those who have not been so far.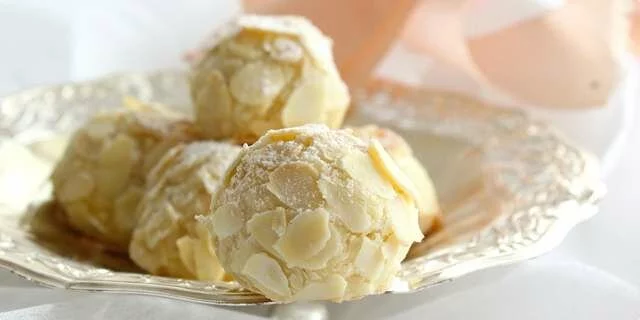 Preparation steps
Mix flour, almonds and both sugars. Add sliced ​​butter to the slices, extensions from the dough mixer first on low speed, then make crumbs on the largest (or with your hands, it's also fast), add egg yolk, a few drops of bitter almond aroma if desired (I didn't put) and other ingredients, quickly place the dough, the faster you work the better dough you will get for further processing. Wrap it in cling film and refrigerate for an hour.
For the filling, chop the apricots as finely as possible in a blender with orange juice, if they are very sour, add a little powdered sugar (mine were sweet, so I didn't add them). Knead the chopped apricots with marzipan, make a roll 30 cm long and cut into pieces one centimeter thick. You will get 30 pieces that you shape into balls.
Take the dough out of the fridge. Shape it into a 30 cm long roll and cut into 30 pieces. Put each piece on a bag and spread it a little with your fingers, put a ball of marzipan with apricot.
Wrap the ball in the dough as when making dumplings. In one bowl, break the egg whites a little with a fork, put almond leaves in one plate (not all at once). Stir each "dumpling" into the egg white, carefully remove with a fork to keep your fingers clean (you will be easier to grind the balls into almonds). Put the ball in a plate with almonds, put some almonds on the ball and gently turn with your fingers so that the leaves stick to the balls. Place on a baking sheet lined with baking paper.
Bake the balls at 175 degrees for 13-15 minutes, taking care not to burn them. Cool them on a baking sheet, because they are still soft when hot, so they would break. Sprinkle the balls with powdered sugar.
* If you don't have marzipan to buy or you prefer homemade, I single out 2 recipes from Ivoneb and from Broccoli. Homemade is much tastier than purchased, has a high proportion of almonds, and you can add aromas of bitter almonds as desired, depending on whether you want a stronger flavor. Homemade marzipan is a favorite even with people who don't like it, provided they like almonds.