Arugula and tomato salad
In many countries, arugula or riga quickly, like rarely any food, went down from the haute cuisine to the popular one just to remind us of the wild twin sister and the interesting dishes in which we forgot about her. Fortunately, only briefly.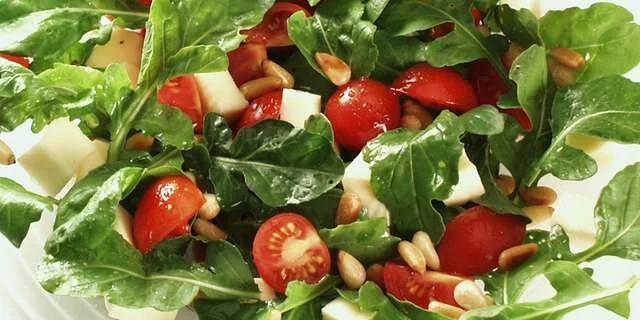 Preparation steps
Wash the arugula and drain well. Cut the tomatoes into slices and the mozzarella into cubes.
Fry the pine nuts briefly in a pan without fat.
Mix Natur for salad dressing with water and let it stand for about 10 minutes. Then mix in balsamic vinegar and olive oil.
In a deeper bowl, place the arugula and tomatoes, drizzle them with the prepared salad dressing, and finally add the diced mozzarella and roasted pine nuts.
Serving
Serve the salad with arugula and tomatoes with fish or grilled meat.
Advice
You can use freshly sliced ​​nectarines instead of tomatoes.