Aromatic polenta
Polenta has been slowly returning to our daily lives for some time now, enriched with new combinations. Aromatic polenta smells of basil, parsley, but also chili and turmeric, and is anything but an ordinary and boring dish.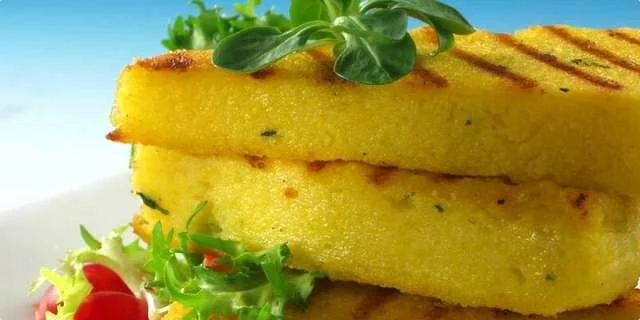 Preparation steps
Add olive oil and to the boiling water. Remove the bowl of water from the heat and add the semolina, stirring constantly.
Add parmesan, basil, parsley, mix well, return the pan to the heat and cook for another 2-3 minutes.
Pour the hot polenta into a round shape with a diameter of 28-30 cm and cool.
Meanwhile, prepare the mayonnaise sauce. Put mayonnaise in a bowl, add sour cream, sliced ​​chili pepper, cumin, turmeric, salt and parsley.
Pour the cooled polenta on a board, cut into appropriate pieces, and then fry in butter on all sides.
Serving
Serve the polenta prepared this way warm with mayonnaise sauce, lettuce and fresh tomatoes.
Advice
If you are a vegetarian, you can serve this dish without sauce. It is very tasty.