Amaranth with wok vegetables
In this dish, I have successfully combined vegetables prepared in a wok, which I love immensely, and the pseudo-cereal amaranth (technically not a cereal). For vegetarians and those who are not allowed to eat anything with gluten, this is a great meal. For the rest of us, it's also a great and healthy meal, and can be a great side dish to meat. The Chinese mixture of spices in the vegetable dish gives a specialty.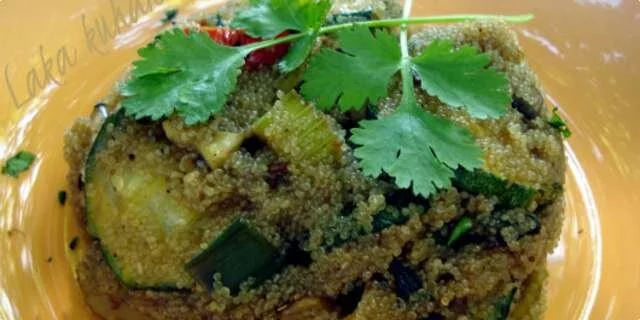 Preparation steps
Prepare amaranth according to the instructions on the package, cook in water, on low heat for about 20 minutes or until completely cooked.
Fry the zucchini (not all at once, but a small amount), in a little fat, stirring constantly, in a wok pan for 5 minutes until golden brown. Sprinkle with a little soy sauce and sprinkle with a little Chinese spice mixture. Remove the roasted zucchini from the pan, set aside. Repeat with the remaining zucchini until the whole amount is cooked through.
Fry onions, peppers, celery and garlic, with the addition of soy sauce and spices, in a little fat in a wok for 2-3 minutes. Remove from pan, set aside.
Mushrooms, with the addition of soy sauce and spices, fry in a little fat in a wok for 1-2 minutes. Return the fried vegetables, zucchini, onions, peppers and celery to the wok, mix with the champignons.
Cooked amaranth add, stir to combine vegetables and amaranth.
Nutritional info for 1 serving *: energy value: 342 kcal; fat: 11.57 g; carbohydrates: 50.93 g; protein: 11.28 g; cholesterol: 0 mg; sodium: 254 mg; potassium: 723 mg. Measuring cups and spoons
Serving
Serve as a light vegetarian meal or meat side dish.