Algerian cookies: El Warda (Rose)
Make yourself a little rose ...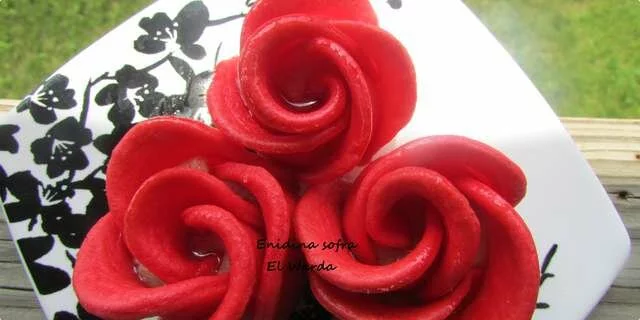 Preparation steps
Mix 2 tablespoons of syrup with water. In a bowl, combine the dry ingredients, then mix with the syrup we made. The dough should be firm so that it does not stick to the surface. Add red color to the dough.
Mix ground almonds and sugar, and add egg whites. Mix everything well and make strips.
Roll out the dough as thin as possible. Make circles with a larger glass or cookie cutter and arrange as in the pictures.
Put the almond mixture and roll.
Remove excess dough from the bottom with a knife. Fix the petals a little by hand.
Bake in a preheated oven at 355F for 20 minutes. Make agda (as you like) and water.