Algerian coconut biscuits
The beauty is in the simplicity..I was thrilled by these cookies at the first bite :)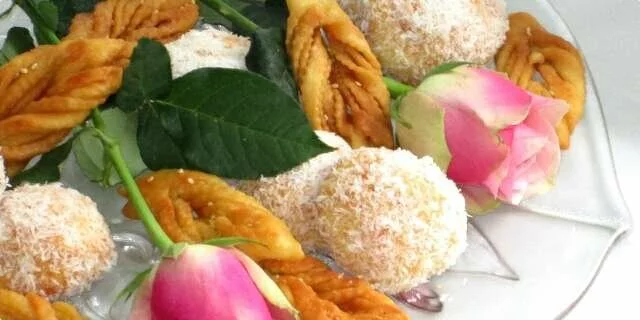 Preparation steps
Whisk with a mixer eggs, sugar, oil and tin. Mix the flour with the powder, then knead the dough that does not stick to your hands (if it sticks a little, add about another 50-100 g of flour).
Preheat the oven to 180c ° .Oil a little palm and tear off smaller pieces of dough, and make balls the size of walnuts.Put them in a tin with back-paper, and bake for about 15 minutes (they must remain almost white).
Whisk the jam with a stick mixer with a little water, cool the biscuits. So immerse each biscuit in the jam, then in the coconut. Keep the biscuits in a closed box.
Serving
Algerians serve it with mint tea.