Algeria: Couscous salad
Simple and quick preparation, delicious food, looks effective, tastes different, and yet, not so different that the broad masses in this area would not like it!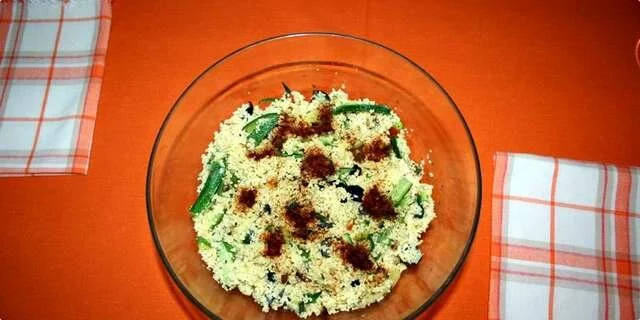 Preparation steps
put couscous in a bowl and cover it with hot soup under the vegetables; stir and let stand 10 min. to soak up the soup; stir
wash the zucchini, cut off their tops and cut into thin strips; boil the zucchini briefly (they will be done quickly)
halve the olives
fry almonds in a pan for 5 minutes; be careful not to burn; add the almonds mixing with the zucchini and olives and put everything in the couscous
at the end of the spices add coriander, primrose in olive oil and lemon juice, stir; add cumin and cayenne pepper and mix well, then pour couscous with this mixture
Serving
Since last weekend was an "African weekend," I prepared two dishes from Algeria the first day. Tomorrow follows the continuation of the recipes from last weekend.