Afghan kebab like steak
This recipe is known to everyone, but I make it as a snicle… I use a small part immediately, and I freeze the rest, and when we want something quick for lunch, the solution is in the freezer :)))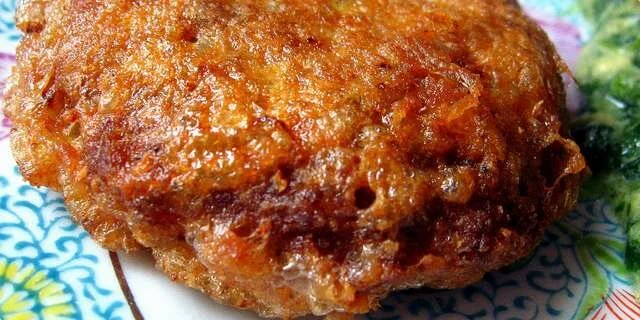 Preparation steps
Boil the potatoes in their skins, peel them and mash them as for mashed potatoes.
Mix meat and potatoes, add finely chopped garlic and red onion, parsley leaf finely chopped, eggs, spice to taste and mix everything well with your hands.
From this mixture I immediately make balls; in the palm of my hand I spread them to the size of a snicle and roll them into bread crumbs.
I place the snicles prepared in this way on a plastic tray and sprinkle a little more crumbs so that they do not stick. I put them in the freezer for about 2 hours and they are ready for lunch.
I use one part immediately, and I pack the rest in freezer boxes and go to the freezer until use.
Steaks prepared in this way should not be thawed during preparation, but should be immediately rolled in eggs and fried in heated oil…. Adjust the temperature according to your own experience :)))
Roll the snicle in eggs and fry in hot oil on both sides for 5 minutes.
Serving
With stew and salad if desired, this is a quick and tasty lunch…