Acharuli Khachapuri
Khachapuri is a traditional Georgian dish; pastry with cheese. There are different versions of this pastry in the Georgian regions, so Acharuli Khachapuri is in the shape of a boat, with the addition of eggs ...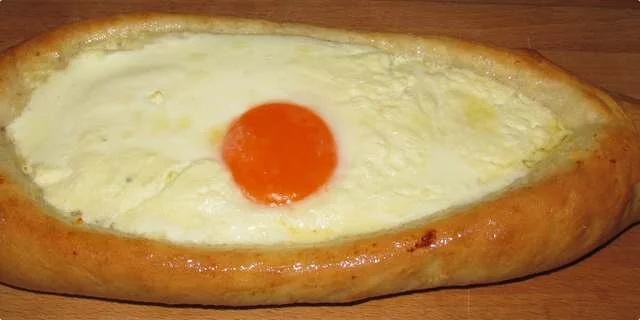 Preparation steps
From the flour (I made a combination of plain and wholemeal flour), salt, sugar, yeast, oil and water to knead the dough. Leave on warm to separate. From the dough form 3-4 balls. Roll each ball oval. Coat with cheese, but leave the edges free ...
Then, twist the edges of the dough, to get the shape of a boat.
You can also roll out the dough as a pizza, then coat it with cheese ... that is, then, Imeruli Khachapuri.
Grate a little gouda over, then bake at 220 C for about 15 minutes. Remove from the oven, then put one egg in each "boat". Return to the oven and bake for another 5 minutes.
Almost coat with butter, then serve after a few minutes!