Abyssinian
Along with the yellow stanglice, I classify the rich sticks of the Abyssinian as my favorites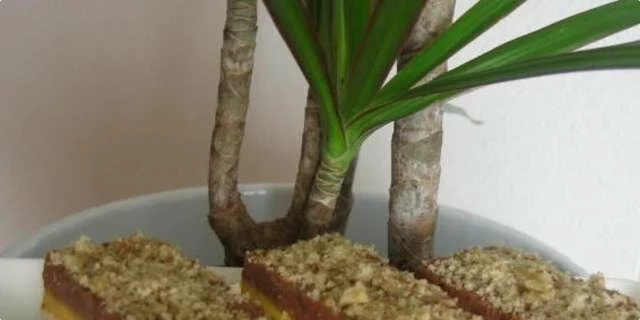 Preparation steps
Whisk the egg whites well first and then add one tablespoon of sugar at a time. Continue to stir until a solid mass, snow, is obtained.
Mix flour and walnuts together and slowly add to the egg whites, using a spatula.
Put parchment paper in the baking tray.
Bake (dry) the crust in a preheated oven at 200 C for about 1/2 hour.
Sprinkle the cooled crust a little with milk to make it juicier.
Meanwhile, steam the egg yolks with the sugar, leave to cool and add the well-beaten butter.
Steam the ground and chopped walnuts with one tablespoon of milk and add melted chocolate. When cool add the well-beaten butter.
Over the finished cooled crust, first put the yellow cream, then the dark and over you can sprinkle with ground walnuts or grated chocolate. Leave the finished cake in the fridge for a few hours and then cut it into small sticks.
Serving
In the original, butter is also added to the crust, but I don't put it in because the stangles are also high in calories.