Absolutely chocolate cake
For my birthday, I decided to treat my family and friends to a nice, absolutely chocolate cake ...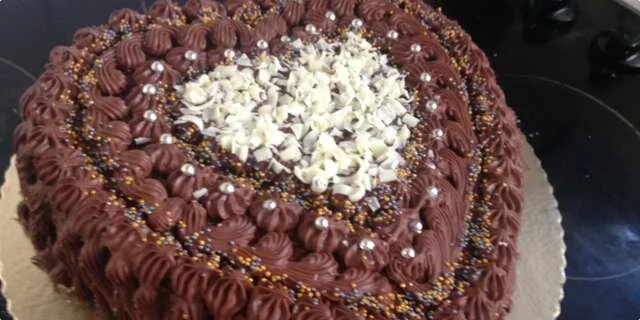 Preparation steps
For the biscuit, first separate the egg yolk from the egg whites, and beat the egg whites with a pinch of salt in solid snow. Beat the egg yolks with sugar and oil, and then add sifted flour with pp. Lightly stir the previously beaten snow into the mixture.
Bake in a 24cm diameter mold for about 30 minutes at 150 in a ventilated, ie at 170 degrees for 45 minutes in a regular oven. That's about it, check after about 20 minutes with a toothpick. Cut the cooled biscuit into three parts.
For the cream (filling), boil half a liter of chocolate milk with sugar, and with the remaining 100 ml, whisk the puddings and thickener and whisk, therefore, like a pudding. Cool down. Add melted chocolate (cooled!) And whipped cream to the cooled mixture and mix briefly.
For the ganache, melt the chocolate in the whipping cream, making sure it doesn't boil. Chilled, mix briefly until we get whipped cream and add 2-3 tablespoons of the prepared cream (filling).
The biscuit does not need to be soaked, but still sprinkle it with a little chocolate milk and rum for the smell. Fill the cake and spread ganache cream on it. Cool, preferably overnight.
Serving
A light cake that is not too sweet, will appeal to non-special chocolate lovers ...