Absolute mmmmmmm with raspberries
There are a lot of such nice light recipes on coolka, I know this isn't a sensation now, ... but it's really good and it's worth sharing with you…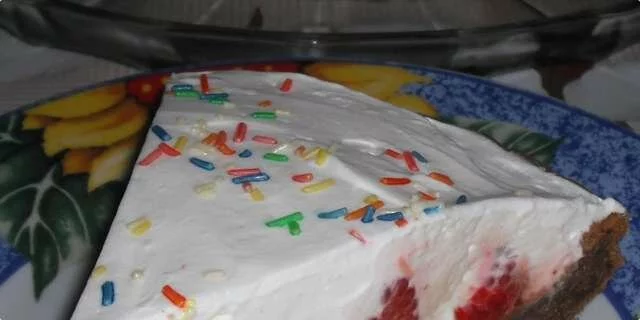 Preparation steps
Mix the egg yolks with the sugar and vanilla sugar.
Gradually add oil and milk, and finally flour, baking powder and cocoa.
Whisk the egg whites until stiff and mix it into the mixture with a food processor.
Pour the mixture into a fruit cake tin (the one with the indentations for the raised edge) which we previously coat with a little fat and flour.
Bake at 180 ° C in a preheated oven. It takes quite a while, 15 minutes can be too much, so watch out for the edge, when it starts to separate from the mold, out of the oven.
Turn the cooled biscuit on a tray, coat with jam and spread the raspberries evenly over it.
Coat the cream obtained over the raspberries by whipping the whipping cream tightly, and add powdered sugar, lemon aroma and yoghurt.
Decorate as desired and leave for at least another 2 hours (preferably overnight) in the cold to combine.
To enjoy.
Serving
Of course, instead of raspberries, some other fruit can be used as desired, and all types of berries are especially suitable. Then match the jam as well.