ABI white plum jam
the godmother calls and says - here I have gathered a plum for jam ... there is one bucket (MM arrives later with 13kg of plums - white, fine, ripe ... e real Barbara jam - great that I have helpers.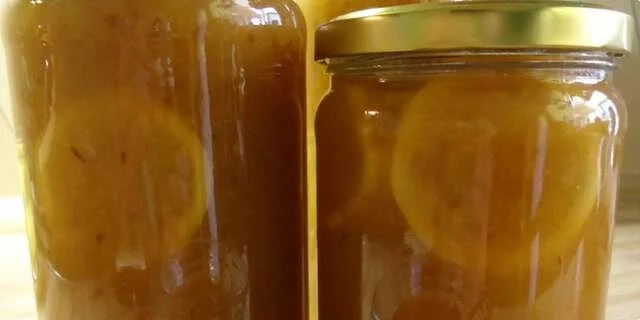 Preparation steps
Wash and pit the plums. Grind them on a meat grinder. In the plums add the jelly mixed with 6 tablespoons of sugar. Add lemon sugar and rum. Mix well and bring to a boil.
Cut the lemon into thin slices and add to the plums.
When the plums boil, add the rest of the sugar and cook, stirring, for another 10 minutes (it didn't shrink, so it's recommended to cook for about 1 hour). Pour into bottles, eat a lemon with a spoon to see and close well.
After 4 days, the jam cooled but did not completely shrink ... recommendation to cook a little longer ... I will toast mine. I poured the contents of the jars into a large pot and when the mixture boiled - I cooked it with constant stirring for 1 hour. The jam changed color a little, it got darker and my lemon boiled ... but now it will surely squeeze.
Serving
I got 7 big jars of 720g.