A two-colored princess
This is a princess that should not be spoiled, because she herself was created to spoil you. Baked crust, a layer of chocolate cream, then another crust and vanilla cream, then on top again crust and sprinkle with sugar or chocolate powder.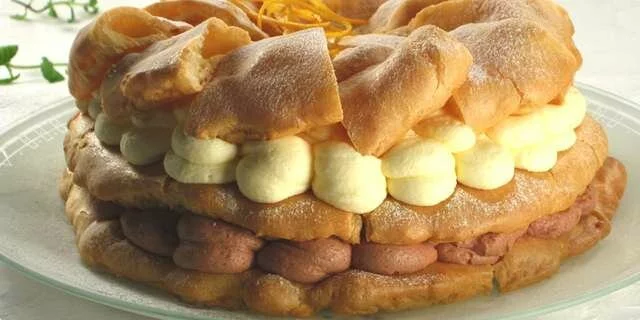 Preparation steps
Put the dough mixture in a bowl, add water, oil and mix gently with an electric mixer until the dough starts to separate from the bowl and let it cool, then mix in two eggs.
Pour one third of the mixture into a 20 cm diameter cake tin lined with baking paper and bake in an oven preheated to 200 ° C for 20 minutes, without opening the oven during this time.
Bake the second and third part of the dough in the same way.
Pour the milk into a tall bowl, add the sugar, cream powder and mix with an electric mixer for 3 minutes at maximum speed. Add melted chocolate to half of the cream.
Coat the baked crust with chocolate cream, cover with another crust, coat it with yellow cream and finally cover with sliced ​​third crust.
Serving
Serve the dessert prepared in this way immediately sprinkled with powdered sugar.
Advice
Instead of powdered sugar, you can sprinkle the cake with powdered chocolate.