A light squid dish
Hot or cold, main course or side dish - choose for yourself! A light salad of squid and roasted vegetables is equally delicious in both cases, and will go well with boiled new potatoes sprinkled with chopped parsley.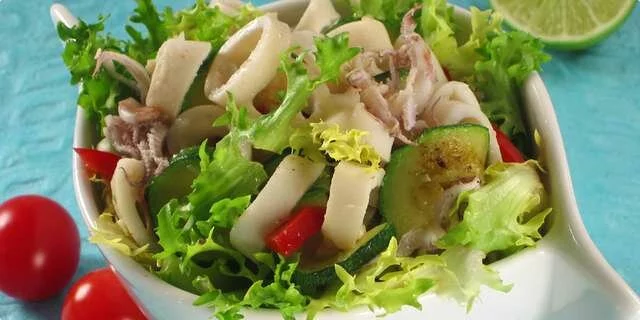 Preparation steps
Put the squid in boiling water and cook for about 10 minutes.
Then drain them, cut into rings and sprinkle with a teaspoon of Vegeta.
Cut the zucchini into slices, fry in a Teflon pan, sprinkle with a teaspoon of for sprinkling and cool.
Separately fry the peppers, peel them, remove the seeds and cut into noodles.
Pour a mixture of olive oil, lemon juice, salt and pepper over the cooked sliced ​​squid, roasted vegetables and lettuce cut into noodles.
Serving
Serve sprinkled with chopped parsley.
Advice
You can mix squid, zucchini and peppers warm, add sliced ​​salad, pour over salad dressing and serve immediately.