A complex of pumpkin, potatoes and feta cheese
... a dish served on its own with a green salad or as a side dish with meat dishes, equally delights all those who have the opportunity to enjoy it :)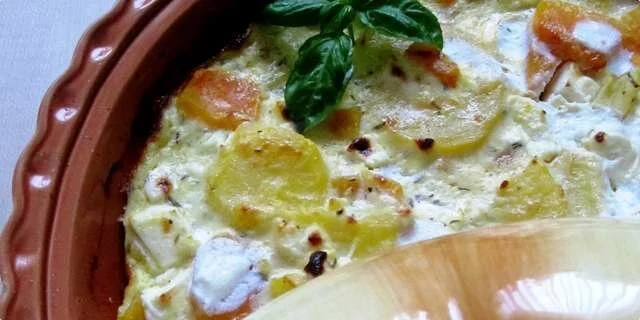 Preparation steps
Peel a potato, cut it into thin slices (rings) and put it to boil in water that you have added a little salt for 8-10 minutes.
Meanwhile, cut the pumpkin into cubes and add the potatoes and cook all together for another 5 mins. Drain.
In another bowl, beat the eggs and yoghurt well, add freshly ground pepper and two pinches of Provencal spices or spices you like, such as thyme, oregano, sage, rosemary, etc. (NOTE: you can add one to this mixture as desired and to taste). crushed clove of garlic).
Drizzle the bowl in which you will bake the mixture with a little olive oil, then add the potatoes and pumpkin, add the feta cubes and pour a mixture of eggs and yoghurt over everything.
Bake in a preheated oven at 200 degrees for 20-25 minutes, respectively, until the mixture gets a nice golden-yellow crust.
Serve as a standalone dish with a green salad or as a side dish to meat dishes.
Serving
Of course, you can replace yogurt with sour cream if you prefer, but yogurt here gives one fine sour note that conquers and makes the dish special.