A cake for a dear friend
The cake was made on the occasion of a joyful event, the birth of a cute little girl, and is basically a recipe for Katarina's cake.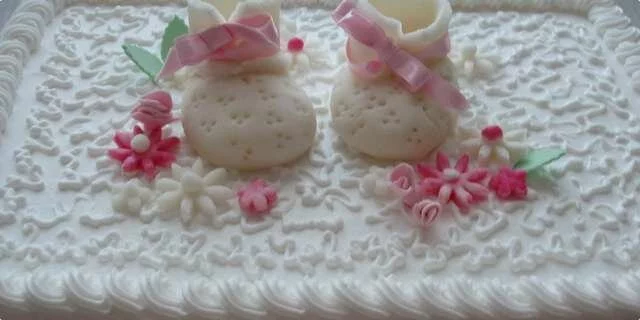 Preparation steps
Whisk in a solid foam of 7 egg whites, add sugar, egg yolks and all other ingredients in order.
Bake the crust and when it cools, cut it in half. This will be our first and third crust.
For the second (middle) crust, whisk 5 egg whites and add all the ingredients in order. Bake the crust in the same mold.
For the filling, steam 5 egg yolks and 3 whole eggs with sugar and vanilla sugar. When the cream has cooled, add the butter and combine everything.
Fill the cake and finally decorate with icing.
For this solemn occasion, the cake is decorated with small buds and small flowers made of sugar mixture, and a detailed explanation of how it is made can be read here:
Serving
On this occasion, only yellow cream was made, but the filling can be divided in half and put melted chocolate (50 g) in one part. The listed ingredients refer to a standard size cake, which can be prepared in a round (# 26 cm) or square mold (25 × 25 cm). The cake in the picture is made of 1.5 measures.