A cake all in two
There are many dishes-jokes, especially in sweet cuisine, where ratios are very important. In order not to have to weigh everything, you usually come up with interesting "measures".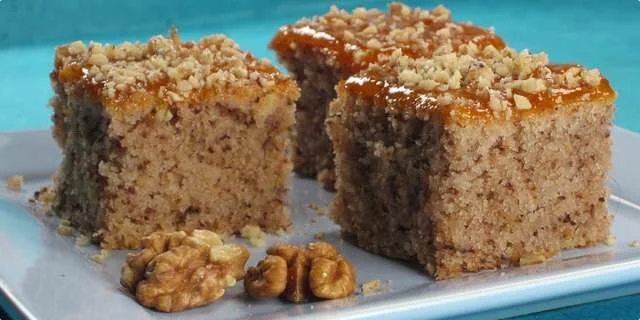 Preparation steps
In a suitable bowl, whisk together the eggs, sugar and vanilla sugar. Add the oil, milk, nuts, semolina and flour mixed with the baking powder.
Finally, mix in the grated apples and rum and pour the mixture into a greased and floured tin (size 20 × 35 cm).
Bake the prepared mixture in an oven preheated to 190 ° C for 30 to 35 minutes.
Coat the baked cake with apricot jam and sprinkle with chopped walnuts.
Serving
Cut the cake into cubes and serve on a plate previously sprinkled with powdered sugar and cinnamon.
Advice
You can replace walnuts with ground hazelnuts.