A cake according to my wish
So my dear ones, this cake is ready in a very short time but very tasty for sunny days and enjoying Sunday after lunch. I had a lot to spend so I finally came up with this sweet recipe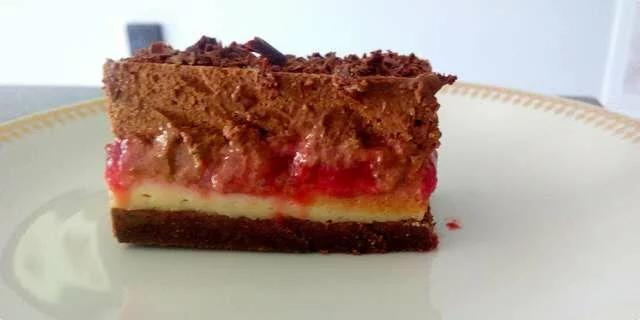 Preparation steps
For Biscuit: I had unspent biscuit edges so I crumbled them. You can also take crumbled biscuits. - Crush the biscuit or biscuit and add butter. Combine all this into a compact mass, and dip it in a mold in which you will bake a cake and put it in the refrigerator to cool.
For the yellow filling: Boil 2 vanilla puddings in 600 ml of milk. When the pudding has cooled a bit add the margarine. (Margarine can also go warm if you're in a hurry, but I decided to leave it to cool);) When you have added the margarine, make it well with a mixer so that there are no lumps, and pour over the biscuits
Fruit stuffing: Put wild berries (I had currants, cherries) to boil, add vanilla sugar (because of sour currants I also added 2 tablespoons of sugar). Make with a stick mixer (I chopped them because of the stones in the currants, but if you don't mind you can leave them like that) and add the gusnel. When everything cools down a bit, pour over the yellow filling.
Chocolate mousse :): -Put the chocolate in a pot above a larger pot in which water has boiled. (Make sure the water does not touch the chocolate pot.) Put the fire on low. Stir until dissolved. Remove the pan from the heat and set it aside to allow the chocolate to cool. -Put the sugar and eggs in a bowl and mix with a mixer for about 5 minutes. Put the cooled chocolate in it and stir. -In a separate bowl, beat the sweet cream until it squeezes .