A bump
a lot, but it is very tasty !!!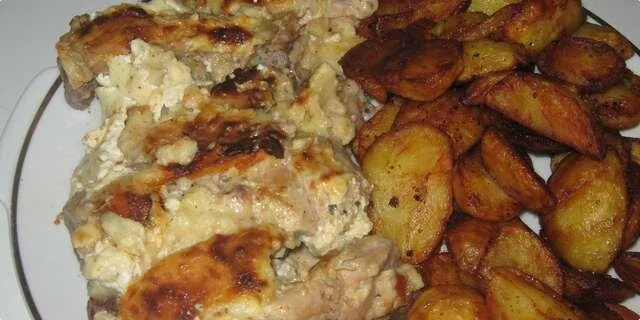 Preparation steps
Beat eggs with a mixer with 2 dl of milk and 2 dl of water. Slowly add 200 g of flour to knead the dough as for pancakes, just a little thicker.
mash the young cheese with a fork, and mix it into the mixture, stirring lightly. season with salt.
Pour the mixture into a pre-oiled pan.
Separate the chicken drumsticks from the carabaks and season them with salt, vegeta, pepper, and allspice. and place them over the mixture in a baking sheet.
cover everything with aluminum foil and bake at 250 c for about 20 minutes.
remove the foil and pour over the sour cream which we whipped with a little pepper.
return to the oven and bake for another 20 minutes at 200c.
Serving
as a side dish you can serve grated potatoes :))))