A bowl full of watercress
Potočarka or dragušac .... a plant of incredible health attributes, experts say. Today, along with spicy chicken a la tavuco, this salad bowl contained plenty of selected and delicious ingredients.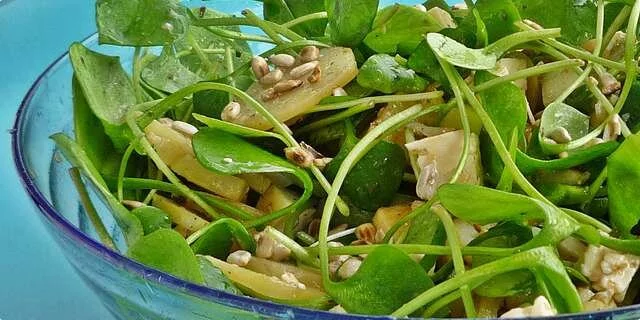 Preparation steps
Wash the potatoes well under running water and put to boil in water to which we have added half a tablespoon of salt. Clean the watercress and wash it in three waters. Dry well. Fry the sunflower seeds dry over medium heat. Cool the boiled potatoes and cut them into slices. Add diced feta cheese (1x1 cm) to the boiled potatoes, peeled and peeled apple also diced. Pour 1/2 of the prepared topping. Stir. Before serving, add watercress, pour over the rest of the topping and mix well. Sprinkle with sunflower seeds.
We will make the salad dressing as follows: peel the garlic and cut it with a slicer. Place in a bowl and add salt, honey, herbs, oil and vinegar in order. Stir well and leave to stand for at least half an hour.
Serving
Serve with a meat dish that suffers from such a dry side dish, such as breaded or natural steaks.