A black woman with apricots
A black woman for a brunette Vukica. Happy birthday with this chocolate seductress with apricots, it can be combined with other jams, it is made quickly and we really like it. And it is even better with cherry, strawberry, raspberry, plum jam or as in the original recipe with orange. Although it is a chocolate cake, it is very juicy thanks to the jam.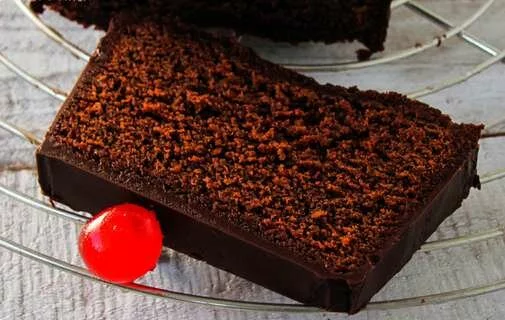 Preparation steps
All ingredients should be at room temperature. In a bowl sift flour, baking powder, set aside. Melt the butter in a small saucepan. Separately melt the chopped chocolate. Pour the chocolate into a larger bowl and mix the butter with a wire, then add the jam, sugar, salt and eggs. Stir only until the mixture is even, but no more. Gradually add the flour, mixing it just to combine with the chocolate mass.
Cover the bottom of the baking tray with a paper measuring 10 x 20 cm (or less) or spread with butter and sprinkle with flour. Pour the mixture into a baking sheet. Bake in a preheated oven at 180 ° C (fan 165 C) for about 50-60 minutes, or more, the so-called dry stick. Take it out of the oven, cool it (I turned it over), pour over the chocolate sauce, decorate or you don't have to.
Glaze: 50 g milk chocolate 50 g dark chocolate 40 g butter Melt the butter in a small pan with a thick bottom. Add the crushed chocolate, stir until melted. After cooling slightly, pour over the cake. Enjoy :-).
NOTE: - Do not use margarine butter! - I reduced the sugar to 120g and it was sweet enough. - I intentionally melted butter and chocolate in particular, because sometimes they behave strangely when they melt together - Chop jam or marmalade if there are pieces of fruit in a blender or stick mixer.