A black angel
The cake of my childhood.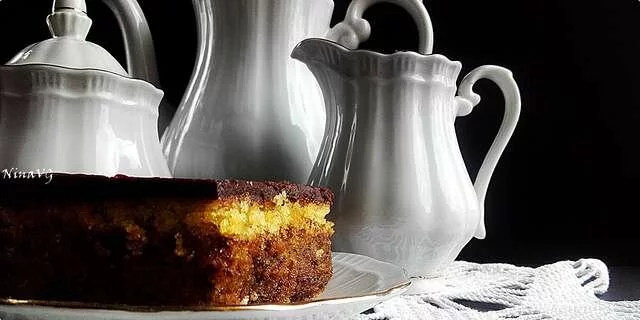 Preparation steps
Turn the oven to 180C to heat.
Whisk whole eggs with sugar. Once the mixture has become frothy add the sifted flour with baking powder. Divide the mixture in half and add the ground walnuts to one half. Pour the mixture with walnuts into a 37 cm x21 cm sheet (the size of my sheet) and then pour the second part of the mixture on that mixture. Place the oven in a preheated oven for about 15-20 minutes. Adjust the baking time to your oven.
While the biscuit is baking, prepare the topping. Put sugar, water and rum in a pot and cook over low heat until it boils. You can adjust the amount of sugar and rum to suit you.
Pour hot topping over the baked cake immediately. Pour slowly, so as not to make holes in the biscuit, as happened to me.
Pour chocolate glaze over the cooled biscuit. On a low heat, put the chocolate, margarine and oil in a small pot to melt. The recipe says the mixture has to boil, I didn't make it that way.
After you have covered the cake with chocolate glaze, leave it at room temperature to cool a bit, and then put it in the fridge to cool. It is better when left in the refrigerator for one day.
Serving
You can serve it with coffee or tea, as you prefer. The recipe is from my mother's notebook.