A biscuit for the undecided
When everyone has their favorite fruit, when you don't know which fruit is your favorite, when you have a piece or two of apples in the house, and some peaches are dragged to you, and the neighbor rolls figs, when you don't have time to make something else, when you don't have money to make something more expensive, then - make a biscuit. I've repeated it a million times already, but I'll repeat the jopet: I love crispy dough and everything from it. Here is just another version / idea / suggestion on how to make this divot. In this region of ours, we are used to making some other, far more generous cakes, the ones that can be eaten when six people sit down. When it comes to biscuits, if you don't make three, then you certainly won't eat. But you can also sweeten one of them after lunch.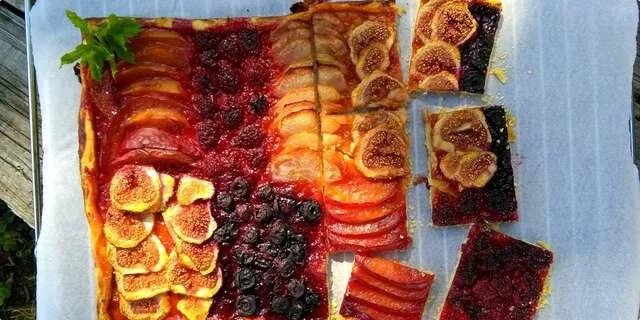 Preparation steps
Sift flour into a bowl, add sugar and stir. Make a hollow in the flour, add one whole egg and 120 g of cold butter cut into cubes. Knead the dough by literally rubbing the flour into the butter. The dough should be very firm, add 2-3 tablespoons of cold water, just enough to form a ball. Do not knead the dough for a long time, it is ready as soon as the ingredients are combined. Form a ball, wrap it in stretch foil and leave in the fridge for 15-20 minutes for the dough to rest.
During this time, prepare the fruit: if necessary, peel the figs (depending on the type and how ripe they are), then cut them into leaves, as well as peach / nectarine. Peel an apple, cut it into slices and soak them in water with a little lemon juice so that they do not darken. Raspberries and blueberries, for God's sake, don't chop. And so can those from the freezer. Roll out the cooled dough directly into the rectangle on baking paper, as regular as possible. Raise the edges of the breadcrumbs, let them be about 1 cm high, this will prevent the filling and juices from the breadcrumbs from leaking even worse when crossed, and the cake itself will be juicier and tastier.
Coat the dough with 3 tablespoons of jam, do not overdo it, at least not much. Sprinkle semolina over the jam, it will absorb all those wonderful juices that come from baking ... And then arrange the fruit over the jam: five types of fruit, ten piles, so two cubes of each type. Arrange everything nicely, roll the paper with the breadcrumbs on a baking sheet, then bake.
Bake the breadcrumbs in an oven preheated to 200C. Bake for 15-20 minutes, the fruit should be baked and the dough should be finely browned.
Remove the finished biscuit from the pan and leave to cool.
You can cut it into larger or smaller cubes. and those who eat it can choose which cube they like best. Of course, if you also have a scoop of ice cream, feel free to add it to the cake. There is nothing wrong with lightly whipping sour cream with vanilla and sugar and serving it with cake instead of ice cream.
I liked every piece but I'm not your rapper ... I love everything that has sugar. I'm champignons.