A bird of paradise
The harmony of colors of the exotic fruit arranged on this delicacy, really inspires the bird of paradise. My virtual friend from Sweden sponsored this treat and named it THE BIRD OF PARADISE. I think she was right, right !?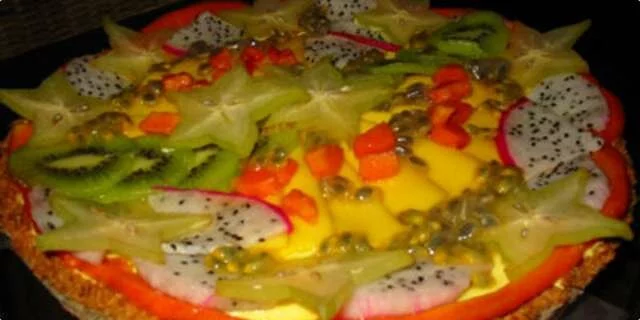 Preparation steps
Whisk the egg whites and sugar and then add the unsweetened coconut. Mix everything and put it in a notched mold. Use your fingers to shape the shell.
Bake on low heat for a few minutes. The shell must remain bright.
Peel a mango, cut it into smaller pieces and put it in a blender. Mix and then add the cheese. Continue mixing for a few more "circles" to unite the mass. If the fruit itself is not sweet enough for you, add sugar to taste.
Fill the shell cavity with the filling and leave to cool (tighten).
Prepare the fruit, cut it into slices and arrange the available fruit according to your wishes before serving.
Serving
You can make the cake the day before and decorate it before serving. It's easy to make and ready in about twenty minutes.