A bicycle for Karl
I have this wonderful recipe inscribed in my tekke for years, I also haven't baked it for years, we tasted it, proof of that is the page in the tekke which is all stained with ingredients :) In honor of my newborn niece Karla, he saw the light of day again, everyone was satisfied, very satisfied, so I'm fine, I haven't forgotten :) This is a version of the bike cake as I make it: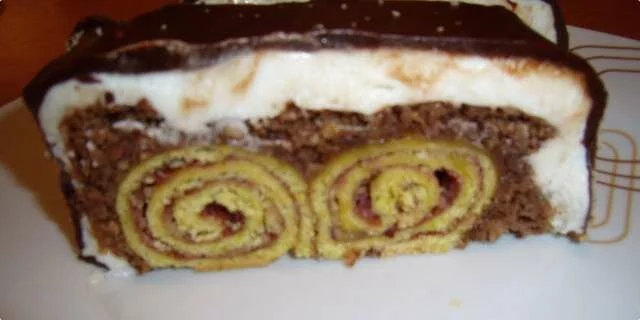 Preparation steps
First knead the dough for the rolls, add baking powder, sugar, crumbled margarine, egg yolks and milk to the flour. Knead a smooth dough, wrap it in transparent foil and leave it to rest in the fridge for half an hour.
Divide the dough into 4 equal parts
We roll out each piece of dough to the size of the baking tray in which we will make the cake, I made it into 20x35 cm baking trays. Coat the dough with a tablespoon and a half of jam (I used my homemade josta and currant). And sprinkle a tablespoon and a half of ground roasted hazelnuts on it.
Roll tightly to obtain four rolls the length of a baking tray.
Place the rolls in a baking tray, making sure that they are stacked two by two, leaving 2-3 centimeters empty in the middle.
Now we need to prepare the biscuit, mix the egg whites, add the sugar and vanilla sugar. In a separate bowl, mix the flour, ground hazelnuts, baking powder, cocoa and mix everything lightly into the mixed egg whites.
The resulting biscuit dough is quite thick and lightly spread on the rolls, making sure that all the empty spaces between the rolls are filled. Place the cake in a preheated oven at 200 degrees and bake for about 25 minutes, using a toothpick to check if the biscuit is baked.
In the meantime, cook the cream, subtract 1 dl from the milk in which the flour and thickener are mixed, and boil the remaining milk, sugar and vanilla sugar. Cool the cream and add the prepared margarine. When the biscuit has cooled, we carefully take it out on a larger tray (you can clearly see how the rolls are arranged below).
We get two cakes, decorate as desired, I left one just topped with icing and the other still decorated with almond leaf flowers, thanks Watermelon for the decorating idea.
Serving
Cut into slices, enjoy good company and enjoy.