A beautiful cake with strawberries
Something light, simple and fine ...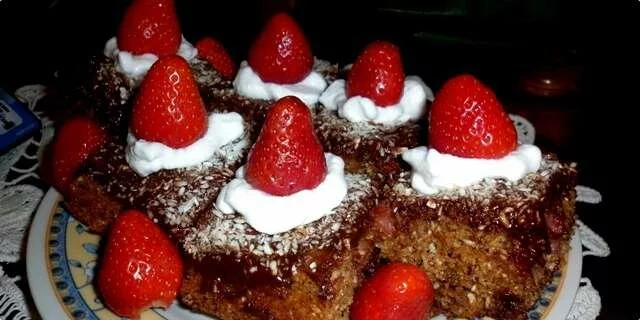 Preparation steps
Beat eggs with sugar. Add flour, melted margarine, grated chocolate, ground biscuits, coconut, raisins, baking powder, vanilla sugar and rum.
Combine all the ingredients, and pour half of the mixture into a baking tray lined with baking paper. Then chop the strawberries (or whole if they are not too big). Over that the rest of the mixture.
Then put in a preheated oven and bake for 30-45 minutes at 200 degrees.
When baked, pour icing over the cake, and sprinkle with coconut. If desired, you can decorate with whipped cream and strawberries.