A basket with a fruit bouquet
The thing is very simple - you only need a few fruits, a little imagination and patience and believe me - children will love fruits that they might not normally eat !!! or surprise a friend with a slightly different birthday bouquet, or simply beautify your festive table….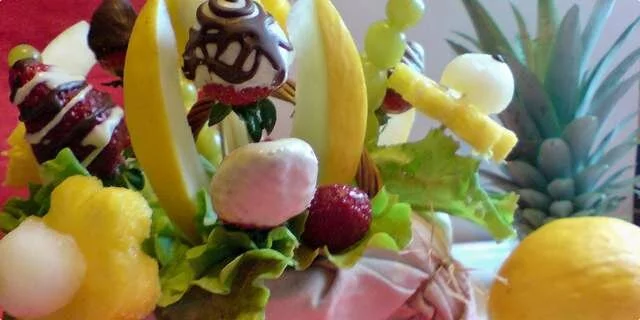 Preparation steps
Wash the strawberries but leave them the green part. Dry them well.
Melt the chocolate in a steamer or microwave with the addition of a little oil, then dip the washed and dried strawberries that you previously pricked on a skewer and leave them to harden the chocolate. When the strawberries are firm, you can decorate as desired - black and white chocolate and vice versa.
Peel a pineapple, cut it into rings and cut the flowers with a flower cutter.
Clean the melon and use a ball-making device to remove the balls.
Pierce the pineapple flower with a stick and then place one ball on top of the stick.
Place the washed head of lettuce in a basket (or bowl in which to make the arrangement), tear off a few leaves and arrange them around.
Also "list" the grapes on sticks.
Arrange the "flowers" in the basket first, and then the rest of the fruit. Arrange according to your own wishes and imagination.
You can also add melon cut into slices and pierced with a stick, oranges sliced ​​into slices, strawberries without chocolate… there are countless variations!
Serving
I "picked up" the idea on the net, it's very simple and I won't even talk about the impression it leaves on others. So my kids ate a melon for the first time that they didn't even want to try before.