9 soles
this is a very old Macedonian recipe, which is often prepared in Prilep… I made it for the first time at the request of my father-in-law… there is really a lot of work but it paid off…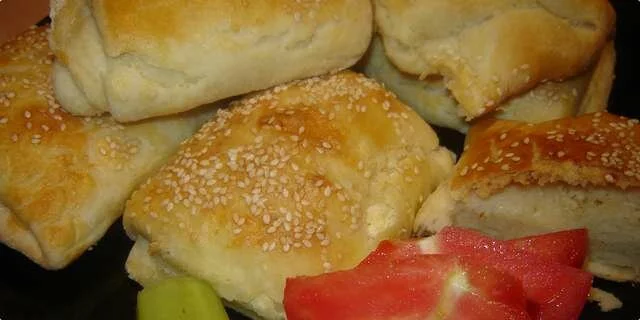 Preparation steps
Knead a soft sourdough dough, flour, oil, salt and lukewarm water as needed.
Then let the dough rest for ten minutes.
Tear it into walnut-sized balls, sprinkle each ball on all sides with starch flour and set them aside. I made cups of 6 balls ...
Now unroll each ball, brush it with melted margarine and arrange 6 crusts on top of each other ... do the same with all the balls and in the end you should get about 18 such groups of 6 po each (so first you should divide the dough into a hundred ball, and I divided it exactly to 108)
Now unroll each group of 6 crusts, sprinkle it with oil and put the vinegar filling, I put the cheese.
Then fold the cover like an envelope and let it rest for ten minutes.
Bake them at 180 C, coated with egg and sprinkled with sesame seeds.