7 Dwarves
We all know our favorite childhood fairy tale Snezana and 7 dwarfs, and today our children's favorite fairy tale. Before going to bed every night we read a fairy tale to children - and one day the youngest wanted a dwarf from a fairy tale and here they are all but one, took him away. The children liked them a lot, they made their own caps.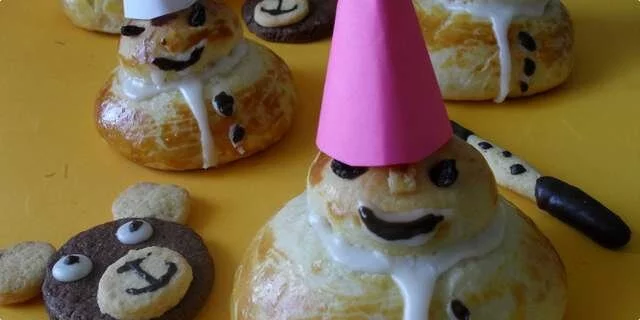 Preparation steps
Put the milk already heated in a bowl in which the dough will come to you.
Now add a pinch of salt, yeast, sugar and make everything to melt finely.
Now add sour cream, egg whites, flour and oil at the very end. Make well for a few minutes to get a fine smooth dough that does not stick to the dish at all.
Leave on warm to double the mass.
Now divide the dough into 7 equal parts.
Divide each part into one larger and one smaller. Make a circle from the larger one, as for a cake, then place it on a baking tray lined with baking paper, put a smaller part, shaped like a ball, over it. Here's how
When all the dwarves are finished, prick their eyes with 2 raisins and candied orange for the nose (if there is no flax, you can also use flax seeds or sunflower seeds.
Now leave them to rest, if it happens when the raisins fall out, press them well before baking.
Now preheat the oven to 200 ° C.
Coat each dwarf with egg yolk and bake them until finely browned, they get a golden-brown color.
Mix powdered sugar with lemon juice, if the mass is no longer thick, add more powdered sugar to make it a little thicker, but still liquid.
Decorate the dwarfs, but only when they cool down, draw a scar around their heads, mouths, buttons… as desired.
It can also be made with a little melted chocolate glaze.
Serving
Dwarf caps let the kids make, it is their greatest joy. You can make the same dwarfs According to this recipe rules, I'm just waiting for them to cool down…