7 days croissant cake
It was his cousin's birthday on Valentine's Day, so his daughter-in-law Bilja made him this beautiful, light cake. I could hardly wait to get the recipe, it's right tonight, so the picture will arrive! Light, foamy and nothing to bake!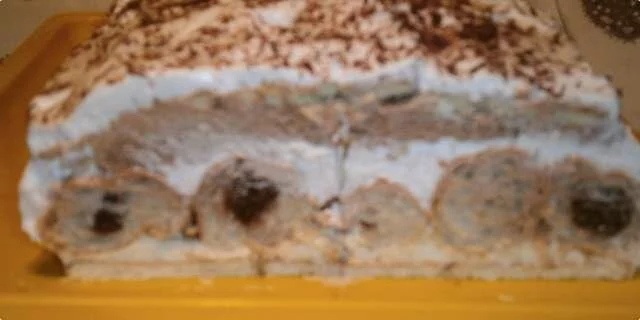 Preparation steps
In 1 L of milk, cook mixed 2 puddings with all the density and 10 teaspoons of sugar.
Whisk the margarine with a mixer and add to the cooled cream.
Divide into two bowls. Put melted chocolate in one.
Prepare the whipped cream according to the instructions from the bag, and divide it into both creams.
Whip the sweet sour cream. Keep croissants from being eaten.
Petit quickly pass through cold milk and stack on the bottom of the tray. Spread the whole yellow cream, stack the croissants next to each other, which you do NOT soak in milk, then coat them with a lot of sweet sour cream. Over that, chocolate filling, then soaked petit biscuits, then coat with sweet sour cream.
The owner of the recipe only laid it on a tray, without using a mold. The cake is huge and I plan to make half a measure. Croissants are packaged in 185 g, so you know how many packages to buy. Petit biscuits may not need exactly 1kg for the whole measure, while I make, I will comment.