5 of 1 - New Year's cookies
Although they are not very innovative, and exist in similar versions on all continents, they are crispy and fine, suitable for making in various shapes as well as for freezing. In Canada, they are known as - shortbread cookies.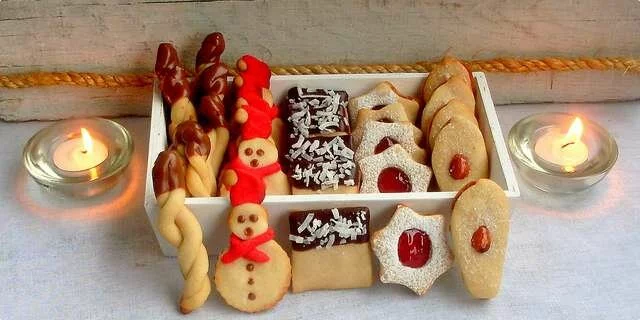 Preparation steps
Of the listed ingredients, I got 80 biscuits, 47 combined and 33 individual. First use a mixer to make room temperature butter and sugar. Add vanilla extract to it and now set aside the mixer. Gradually add the flour and salt mixture, and mix everything together with a wooden spoon until the dough is incorporated. Divide it into three disks, wrap each in plastic wrap and refrigerate for two hours. This dough is quite greasy and should be well cooled in the fridge to make it easier to handle.
Disc dough especially roll out with a little flour. I like the thinner ones for those cookies that I stick together, at about 2-3mm thick; (squares, stars, ovals.)
I picked up the idea for these snowflakes a couple of years ago at SC Kuvar from a user under the nickname Zahara. They were very nice to me and I am happy to prepare them for the New Year holidays. Separate a little dough and add a few drops of red paint. From this part form small oblong rollers for snow sal, and for caps. Use a glass or a mold to make circles, smaller for the head, and slightly larger for the body. Insert the fat between the two circles, and wrap it around the neck of the snowman. Using a toothpick dipped in melted chocolate, dip the eyes, nose, and buttons into the snow.
Shape the sticks between your palms into two thin rollers, and make a braid out of them. Bake the sticks for 12-13 minutes at 180 C. They are the thickest, so they will need more. Dip their tops in melted chocolate. Cut the other biscuits into the desired shapes; I cut into ovals, stars and squares this time. Bake them for 8 minutes at 180C because the halves are baked individually and are quite thin. I filled the oval biscuits and stars with jam and the squares with nutella. Decorate as desired.