5 kg cake
This is really a big and tasty cake, but also easy to make ... I still call it "Cheese Cake" because I make it when I wear it as a gift, eg baptisms, weddings, or when I need to "lighten my cheek" :-)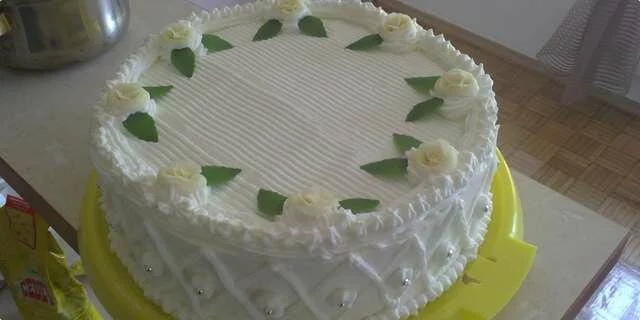 Preparation steps
Mix 2 dl milk, 7 tablespoons sugar, 7 tablespoons density and 2 vanilla sugar.
Add the mixture to 8 dl of boiled milk and cook until it thickens.
When cool add 250 g of margarine whipped with 7 tablespoons of sugar.
Divide the mixture into 3 parts. Put melted chocolate in 1/3, and ground walnuts in 2/3.
Soak the biscuits in milk and place in a cake tin. Put cream with walnuts on the first row of biscuits, then bananas cut into slices (I cut them in a bowl and add a little lemon juice so that the bananas do not darken, and then arrange on the cream).
Put the second row of biscuits on the bananas, then the chocolate cream, and then the bananas.
Third row of biscuits, then walnut cream, bananas and again biscuits.
Place the cake in the refrigerator to harden a bit, then remove the rim of the mold and coat (decorate) with whipped cream.
NOTE: The cake is really rich in quantity, therefore, it is better to make the mold as large as possible. If you are a little safer confectioner, you can stack the cake without mold. Also, you can cut the amount of ingredients in half and get a solid 2.5 kg cake again :-) Let me add that the menu is nicer with almonds, but the flavors are not discussed. Good apetite.