"4 M" stew for Grandpa Pinca
"4M" was a great Zagreb vocal quartet, in which Mali, Muki, Medo and Miro sang, and which entertained our generation brilliantly in the 1960s and 1970s. Today and here "4M" is a great stew in which 4 BEANS - beans, beans, chickpeas and lentils - danced enchantingly. I stored it in my kitchen, on the idea of ​​my husband, who also designed this link. To make sure it's a really great combination, take easy steps through the recipe and prepare this stew. By the way, if you haven't had a chance to enjoy the songs of the "4M" quartet, listen to some old recordings from their twenty-year successful career on You Tube. But, grandfather Pinac, our new Cool chef, to whom I dedicate this recipe, surely remembers their hits from those times .....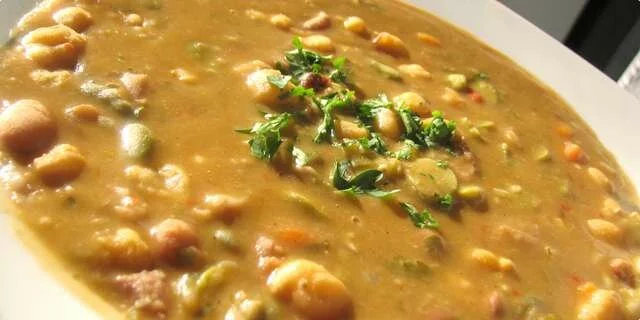 Preparation steps
Boil the beans and peel (if you want to and have time)
Boil the chickpeas and peel (if you want to and have time)
Prepare all the ingredients for the stew
Put the beans to boil and cook it until almost cooked and then add in order: beans,
...... chickpeas,
..... lens,
....... bay leaf and sliced ​​carrots and ....
...... finally finely chopped bacon. Drizzle with water to cover all ingredients and continue cooking. After a few minutes add the and continue to cook on low heat for about forty minutes.
Then add finely chopped garlic to the stew ....
....... and finely chopped parsley.
Continue cooking, add a tablespoon of ajvar and at the same time prepare the onion sauce.
Mix the prepared mixture into the stew, add salt, pepper and turmeric and cook for another ten minutes… ..
..... and then serve and listen to this ......